Welcome to Halmstad's friendliest campground!
What kind of accommodations are you looking for?
Cabins & Apartments
From 2 to 6 beds
Motorhome spots
ca 10×6 metres
Tent spots
With or without electricity
Welcome to Haverdals Camping
Our campground is a family-friendly campground on the west coast of Sweden. We invest a lot of effort in the campground environment to make your stay as energizing and relaxing as possible. Scenic bicycle paths, including the Kattegatt route which is right outside the campground, make it easy to dive into nature. Close access to the beach, rocks and a forest provide ample opportunities for exciting outdoor activities. Add art, culture and fine dining to a stay that will appeal to all tastes and ages.
Our 12-hole adventure golf course is a fun-packed challenge for the whole family. Don't miss our special activity weeks during weeks 25 through 31 (mid-June to the beginning of August) with a children's camp, yoga and workouts.
Welcome to Halmstad's most fun and friendly campground!
Large, welcoming spots
We offer large, 100–120 m2 spots with electricity, and most of them also have water and sewage connections. We can accommodate most vehicle combinations.
And no, we haven't forgotten our four-legged friends. We also have a dog shower and agility course.
Naturally, a fun and enjoyable stay includes clean and attractive service buildings. Checkout before 12:00.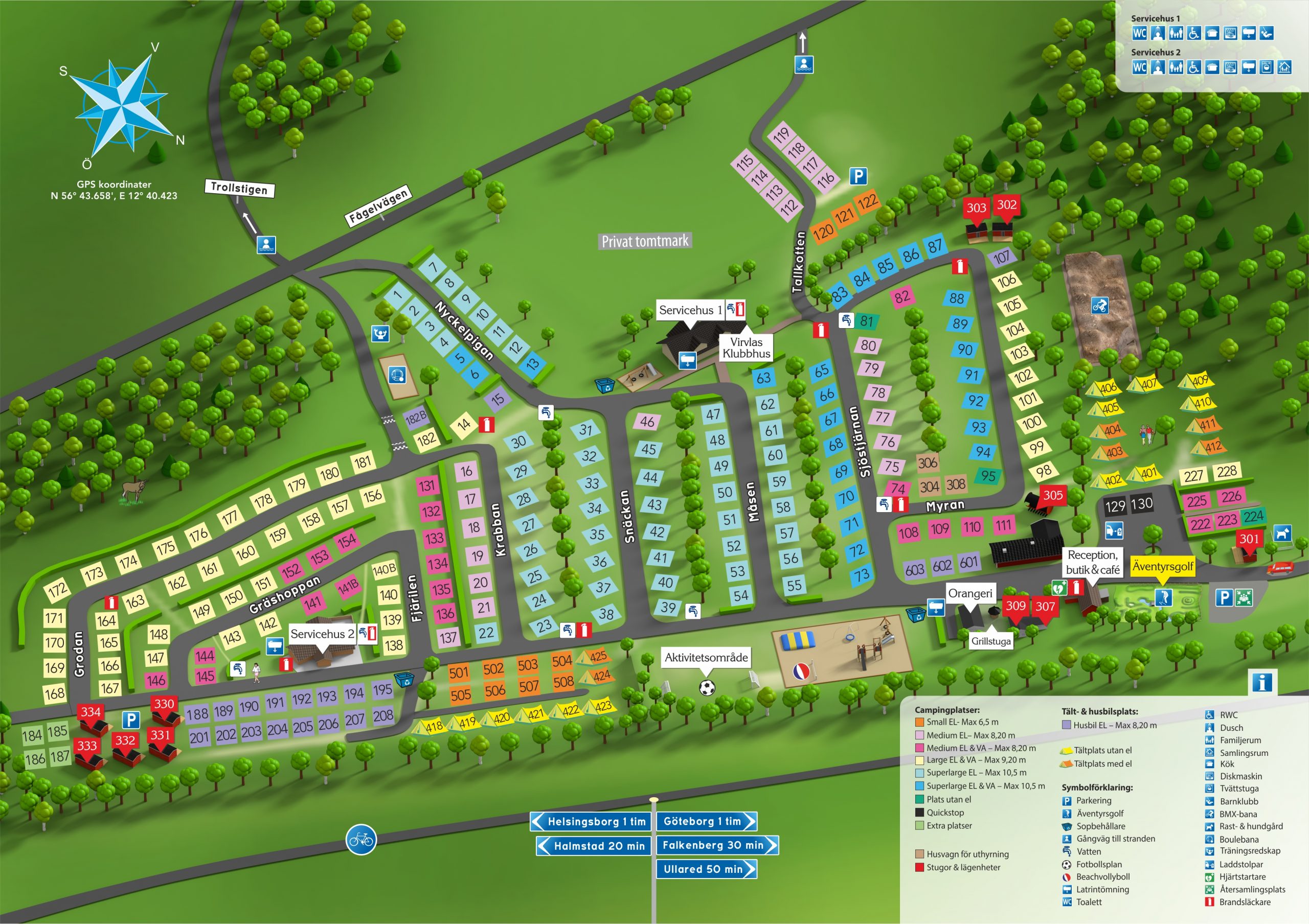 Quick facts
Campsite size: All of our spots are approx. 100 m2.
IMPORTANT: For safety reasons, the minimum distance between units is 4 metres.
Distance to beach: approx. 600 metres.
WiFi: Extra fee. Our WiFi network covers the entire campground.
Electricity: EU-standard outlets on most of the campground.
Grills: Grilling on raised grills is allowed. Single-use grills are not allowed.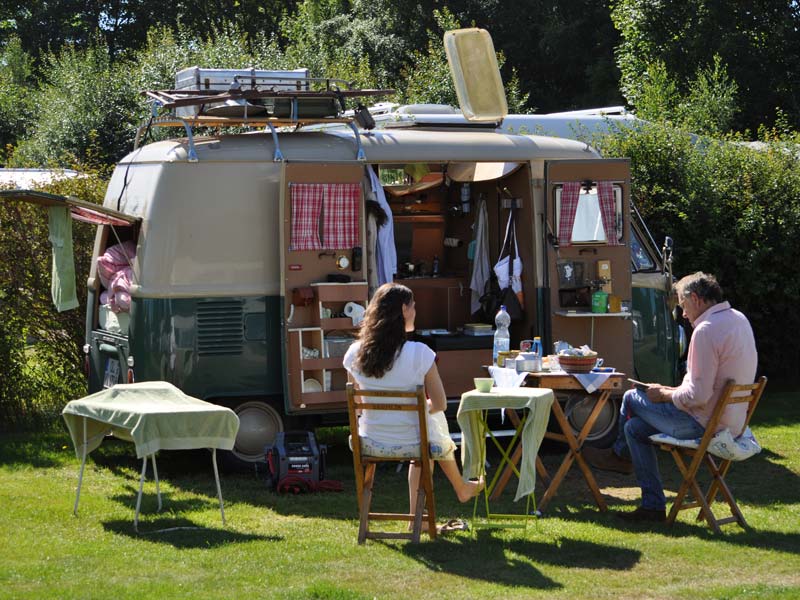 Seasonal camping
Come here and camp for the season!
We are located in green surroundings 600 metres from the sea. The trees provide protection from strong winds. It can get rather windy along the coast. A wonderful, sandy, 1-kilometre long beach is a mere 5-minute bike ride away. The beach has a stone pier, called Sälarevet, that is perfect for fishing small crabs. The end of the pier is popular among amateur fishermen. Take a walk in a beachside forest, among the dunes or in a quarry. Halland's marvellous nature has a lot to offer.
Every season has its charm. Springtime in Haverdal is wonderful! There's a lot going on at Haverdal. We host activities during all big holiday weekends. We start the season with a kick-off evening full of happenings. Among other things, we fire up the grill and bring in live entertainment. All in the spirit of getting to know each other and having fun. Staying the whole peak season ensures you don't miss any of the fun. The off-peak season gives you the opportunity to enjoy nature's kaleidoscope of colours and quiet harmony. No matter which season you prefer, you're more than welcome to come stay with us!
For prices and more information, contact us at info@haverdalscamping.se
/The Nilsson family and staff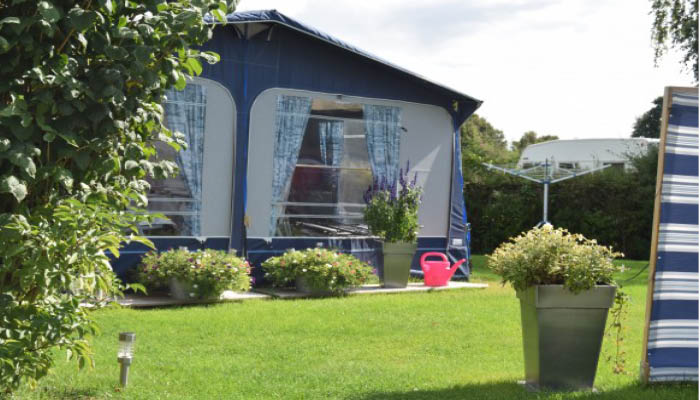 Motorhome and stopover spots
Are you looking for a seaside motorhome spot or just a stopover in Halland?
Our campground is located in natural surroundings near the sea between Falkenberg and Halmstad, and offers both motorhome spots and stopovers.
Motorhome spots
Our motorhome spots are conveniently located just across from the service building. We also offer spots that can accommodate a bus or the largest-model Concorde motorhome. You can always reach us at +46-(0)35-52310 if you're out traveling during the off-peak season and want to check in.
Stopovers
Our motorhome stopover spots have electricity, are asphalted and located outside the gates. These stopover spots are easy to access even when you arrive late in the evening.
Motorhome pitches
Of course, you are free to choose a regular post if you want. For easy access, our latrine-emptying station for fixed tanks and refilling of potable water is located on the way in/out of the campground. This facility is also available without checking in by paying a day fee at the reception.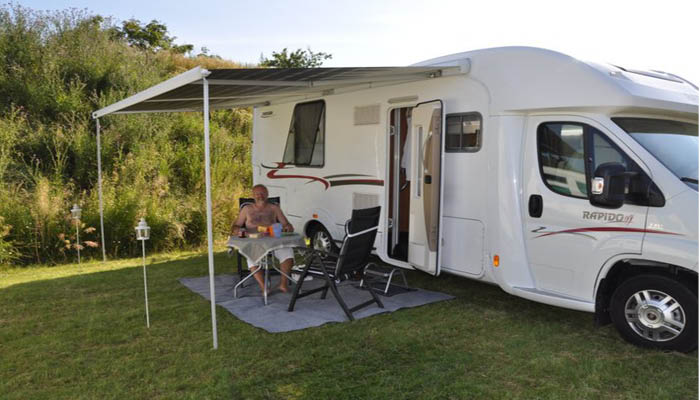 A dog- & cat-friendly campground in Halmstad
Your four-legged friends are always welcome to stay with us. We have plenty of nice walking paths, both in the seaside forest and in the nature near the campground. If you want some tips for a nice walk , ask the reception.
Agility
We have set up an agility course in our exercise yard so that you can test and train your dog. If you don't want to train your dog, you can just let it run around as it pleases. Please remember that the exercise yard is not a dog toilet. However, if your dog does poop in the yard we expect you to clean up after it. If the exercise yard is occupied when you arrive, please ask whether it is OK to let your dog in at the same time.
Dog/cat shower
We have a dog/cat shower in the grey service building. The shower is equipped with hot water that you pay for with your shower card. Please talk to the reception desk if you want to use the dog/cat shower.
Dogs & cats on the beach
Dogs and cats are allowed on a restricted part of the beach that is called Båtabacken. This section is a natural beach. If you continue a bit further along the beach, toward Skintan, you will also find a dog bath. If you can't find it or if you have any other questions, we'll be happy to help you at the reception desk.
Show consideration
Naturally, we expect you to respect your neighbours by keeping your animals on a leash (out of respect for children and people who are scared of dogs) and to take them for walks outside the campground. Don't let them go to the toilet on the grass-covered areas that we maintain. If an accident does happen, please clean it up.
There are two campground areas where animals are not allowed. The first one is the playground. This is the children's area and we want them to feel safe here. The adventure golf course is the other area where dogs are out of bounds.